Melissa Nitta, DDS
Dr. Melissa Nitta's dental practice is unique, warm and inviting. She focuses on the practice of preventive dentistry and is an expert at creating healthy, natural-looking smiles by treating patients with conservative, tooth-preserving dentistry.
Known for her compassion and attention to detail, Dr. Nitta is highly committed to mastering the latest in dental innovations. She has completed thousands of hours of post-graduate education. Dr. Nitta and her team are committed to providing patients with the latest, state-of-the-art dental equipment and treatments designed to resolve your oral conditions and help you achieve ideal oral health. Patient comfort and quality customer service are her specialty.
Dr. Nitta graduated from the University of Texas at Arlington with a Bachelor of Science degree in biology in 1994. She earned her Doctor of Dental Surgery degree with honors in 1998 at the University of the Pacific, Arthur A. Dugoni School of Dentistry in San Francisco, California. She holds licenses to practice in California and Hawaii, and is a member of the American Dental Association, Hawaii Dental Association, Seattle Study Club and Hawaii Interactive Peer Practicum.
In her spare time, Dr. Nitta enjoys spending time with her family, running, playing volleyball, hiking and eating delicious meals.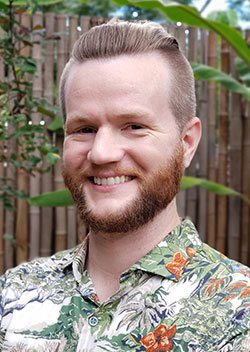 Dr. Erik Strommer, DMD
Dr. Strommer grew up in the small town of Baker City, Oregon, attended college at Portland State University, and then received his Doctor of Medicine Degree (DMD) at Oregon Health and Sciences University. He followed his lovely wife to Hawaii and has been practicing as a general dentist in Hawaii since 2018. Dr. Strommer and his wife, Dr. Susan Strommer, were high school sweethearts and she also practices dentistry on the Big Island.
In his spare time Dr. Strommer says he tends to have some type of creative project going and enjoys comic cons. You may also find him working something for a cosplay. He has two cats and a Great Dane, and enjoys snorkeling, hiking, D&D and CrossFit.
As a dentist, Dr. Strommer states that "[he] enjoys the challenge of problem solving. Nothing beats the satisfaction of working through a problem and achieving excellent results for my patients. Dentistry is a very fun career path, a great blend of healthcare, aesthetics and patient relations."